Perfect Time To Start The New Year With A Bang!
Or Looking For That Special Gift?
I have some special deals for you that would make unique gifts! maybe you've been putting off getting your website up?
 The perfect time is now! You won't find a more affordable ( until next year that is)  hosting plan or supportive & experienced mentor than Lazer Web Services.
FIRST  As you know, I no longer promote webhosting, except on special occasions. I'm glad you found this page. Not everyone knows it's here.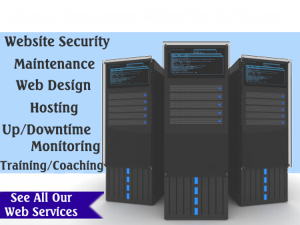 Starter Plan
15 GB Bandwidth 

5000MB Disk Space 

cPanel – THE best Control panel available 

Host One Domain and two subdomains 

Easily Grow As Your Business does 
Small Business Plan Plan
30 GB Bandwidth 

15000MB Disk Space 

cPanel – THE best Control panel available 

Host Unlimited Domains & subdomains 

Easily Grow As Your Business does 
BONUSES –
Join us for our exclusive monthly client-only "Ask Me Anything" Office Hours for FREE – Tech & Marketing training for non-techs. (Normally $67/mo for clients and $97/mo Non-clients)
And our  exclusive Web Hosting Bootcamp- all our clients are invited to attend this crash course. Learn the basics for using your cPanel such as creating domain emails (info.yourdomain.com, support@yourdomain.com) for FREE – stop paying for it at your registrar. Plus we'll cover planning your new website.
 All my clients get FREE access to FTC Guardian, where they can create their legal web documents & stay compliant with the FTC. and any applicable laws. These documents are custom made for

your

business and not some generic template that may not cover your butt completely. Your login to FTC Guardian will be included in your welcome package.
                         Starter Plan- Cyber Mon Special                  Small Business Plan- Cyber Mon Special
                      1 Year Only $14.99 (Normally $69.98)          1 Year Only $24.99 ( normally $109.97/ yr)
~~~~~~~~~~~~~~~~~~~~~~~
Prefer Your Site To Be Done For You?We got you covered!

Why Choose us?
We do a manual installation and NOT the 1-click installs that most do. We don't believe in shortcuts 

We make sure my clients can "run" or manage their websites with confidence & ease. 

We personally train you and give you the tools you need to be successful all without having to know ANY code at all. 

We never leave you hanging either. We will be available to answer questions & offer guidance.

I run multiple businesses and been a business owner for OVER 45 years, so I understand marketing strategies and what WORKS!

There will be continued communication throughout as well as training  ( on-going training if hosting with us) and a month of follow-through afterwards

The Rules and technology concerning doing business online are CONSTANTLY changing and I continuously continue my own education, knowledge, & skills to keep up w/ them, so you don't have to. 

I don't speak in "geek" to you. I try to keep the conversation as simple & as non-technical as possible. 
About Us
 Kathy Pop is the owner of Lazer Web Services ( formally Lazer Web Hosting). I have been a business owner for over 45 years- since 1974. I grew up in a Multi-generation entrepreneurial family. I also was a Mentor/ Trainer/ & Web Master with SCORE which originated as part of The SBA. I helped them with their website, marketing, training. Since just about all their clients have brick & mortar businesses, I help

them get their business online. SCORE is a WONDERFUL resource for mentoring and training when starting a business. Online businesses often forget that there may be things they need to do to be compliant with their town, city, and state and SCORE is a great free resource for that.
 I am also an Official City Partner & Trusted Verifier With Google, helping businesses get online and utilizing Google's many free tools. 
I am committed to helping people start, build, and grow their own awesome businesses and doing it in the most efficient and easy way possible.