How Is Your Website Performing?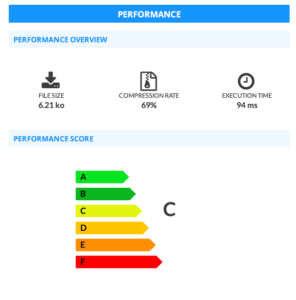 Do  you even know what your website's SEO score is? Or what it means? You could be losing literally hundreds or thousands of dollars because your website is not truly optimized. Want to know how to increase your website's performance? Keep reading.
Checking analytics only tells part of the story. SEO is hard to understand, it's like taking an advanced chemistry class. I'm geeky, but my eyes roll back in my head whenever I think of numerous algorithm equations or code. I found a tool that has helped me understand it a lot better.
This tool grades and analyzes your website for SEO & performance. WOW, what an eye opener! I didn't realize so many things were a bit "off" ( Ok, some were much more than "a bit" off ) on my sites. Just using an SEO plugin is NOT ENOUGH!
 You can do a couple different SEO & performance reports ~
1) Page Analysis – Which is approx 28 pages and is a complete diagnosis of your web pages one by one: content, keywords, design, performance, accessibility… &
2) A Full Website Scan – is approx 22 pages in length & gives you a real overview of your website optimization. Discover your SEO technical errors according to numerous criteria. Check if your website can be crawled by Search Engines, checks for broken links, the content quality of every page, duplicate content, architecture, and outbound links…
It really digs deep into your website. Because the average user will only need it a couple times, I thought I would make it available to my readers a chance to get it for a small one-time fee instead of the pricey monthly or annual fee the company charges. One cool feature is that it includes a to-do list that is listed in order of priority, so no guessing what needs to be done first.
PLUS, we will deduct that fee from any job we do for you within the next three months.
 Check this page out for more details- but don't purchase there, come back and get the discounted price. We'll remove the payment button when the promotion ends. 
You can get your reports below at the discounted rate.  If you are NOT seeing the results you were expecting or hoped for from your website, then I suggest you to get your report(s) soon. You work hard for your money- your website should too!
Choose from:
Page Analysis,

Crawl Report (Full Website Scan) or

Get both reports PLUS a Marketing Audit, and phone consultation. 
Report Options
URL of website
PS- What are you waiting for? How much will NOT doing this cost you in lost revenue?